---
Order food delivery online in Bangkok
Bangkok has a wealth of flavours to offer you when it comes to food delivery. For many people, of course, the best food online in Bangkok is local cuisine, and the foodpanda team have certainly put together some amazing options for Thai cuisine when you are seeking out food delivery in Bangkok. However, this vibrant city also has Japanese, Chinese, pasta, fried chicken, and so many other delicious food delivery items that we would hate for you to miss out on. Maybe you want to enjoy a three course restaurant style meal(salad + Steak + Dessert delivery) for two in the comfort of your own home, as you have a romantic dinner in with your partner from Ootoya, Mos Burger The Coffee Club or Pizza Mania? Or, perhaps you want the unforgettable taste of street food in Bangkok delivered straight to your door?
We make it incredibly easy to get a delivery in Bangkok:
1. Search your area. (food delivery in Sukhumvit, food delivery in Silom etc.,)
2. Choose your favorite restaurant. (Carl´s JR, Subway, Bei Otto etc., )
3. Food gets prepared and delivered to you.
when you get those cravings for a particular type of food. Scouring the city's best restaurants, food vendors, takeaways, and other eateries, we have put together a comprehensive and inspiring list of all the places where you can get an amazing food delivery in Bangkok. In just a few clicks, your tailored food delivery in Bangkok will be winging its way to you. All that you need to do is sit back and relax! If you are in the office right now and you know that you will like nothing more that a takeaway when you get home, why not time your food delivery to coincide with your arrival? Bliss.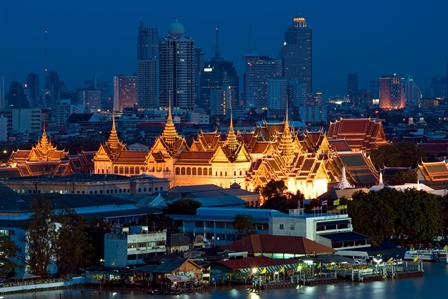 There are so many cuisines to explore when you opt for food delivery in Bangkok.
When it comes to food delivery in Bangkok wherever in Sukhimvit, Silom, Ratchada or Rama 9 , you are hard pressed to get bored or run out of options. In this city, you will be able to enjoy a healthy lunch of traditional Japanese sushi, an after work snack of crispy, spicy fried chicken, a hearty traditional plate of Thai curry, or some energising pasta right before your run. And these are just a few of the options when you want a delivery in Bangkok! In sum, whatever type of flavour you are craving, this wonderful city is sure to have just what you need. And, with foodpanda, you have the best food in Bangkok at your fingertips at all times. Do you ever like to wander the streets, sampling a different kind of street food in Bangkok every week, or even every day? Why not use our website in just the same way, opting for a different kind of food delivery in Bangkok every weekend as a family treat, or sampling something new from the menu of your favourite restaurant like sandwiches from Subway delivery, Indian food delivery and burger or breakfast delivery from McDonald´s each time you order? The foodpanda service is a brilliant way to expand your culinary horizons, and to keep mealtimes exciting. We are always updating our pages for food delivery in Bangkok, so no matter how many times you come back to us, we'll have something new.
Order food delivery in Bankok from your mobile or desktop
Wouldn´t it be great arriving home just as your meal arrives too and ready to eat! It is much easier ordering food from our best restaurants in Bangkok recommended from our customers: Scoozi Pizzaria Italiana, Ootoya, Subway, Pizza Mania, Carl´s JR and The Terrace with our new apps on the way back home or while working in the office and enjoy the freshly prepared, yummy hot dishes. You can download free apps whether iOS, Android and Windows for ordering food by phone on the way. Now the last thing you have to do is to decide how you want to pay, cash on delivery or online payment options with credit card or paypal. Why do you have to waste your time for cooking? Order food online and enjoy your favorite food Now!